The Selfie: The Contemporary Expression of Self
In a few years, social networks (Facebook, Instagram, Twitter, and LinkedIn) have revolutionized the ways of (re)presenting oneself, especially through user profile photos. With the arrival of the selfie captured at arm's length with a smartphone, the genre of photographic self-portrait seems to be changing.
Today Facebook, founded in 2004, is the leader in social content networks. The impact and spread of this platform can be seen in a few figures: nearly 2 billion people worldwide, including 20 million French people, connect to it daily. The amount of content published (comments, articles, images, videos, etc.) is mind- boggling, and photos alone amount to millions of images published every day. In 2013, Oxford Dictionaries introduced the word 'selfie' into its dictionary and defined it as such: "A photograph that one has taken of oneself, typically one taken with a smartphone or webcam and shared via social media." This word originated from the slang "self-ie" referring to a self-portrait; it is appropriately called "autophotographie" or "egoportrait" in French Quebec.
It is impossible to ignore this phenomenon, which has quickly become part of everyday life and the public sphere. The selfie is everywhere, especially visible around tourist sites, concert halls, and at ceremonies! People from all social strata photograph themselves, including celebrities and even Pope Francis. With such an impact, we should ask: is the selfie simply an evolution of the self- portrait genre, or does it reveal new issues in society?
From a Coin to a Smartphone
This phenomenon is not new: starting in Antiquity, the effigy of the Emperor on Roman coins spread the image of a face over a large area. In the 19th century, the invention of photographic technology disrupted painting and spread exponentially. Photography is a reproduction of the Real and, as Pierre Bourdieu points out, it "does not interpret, it records." Thus, it is a vector of identification.
Originally reserved for the elite as a sign of wealth and recognition, portraits then became increasingly accessible. Nadar (1820-1910) was famous for taking a great many pictures of famous people of the time: their postures seem frozen due to the long exposure time, and the neutral decor was stripped of all accessories. In 1854, Disdéri (1819-1889) filed the patent for the carte de visite photo. This small photo mounted on a card was a great success and was mass- produced. In them, the portrait evolved: it was now staged with props and with the people in them sometimes acting out a scene. As technology progressed (especially with Kodak and Polaroid), cameras enabled everyone to take their own pictures of their family, their daily lives, their holidays, etc.
Researcher Bertrand Naivin talks about the "image in a minute," that gradually broke off from the developing of traditional film rolls, to become a Polaroid obtained in a few minutes. Today, taking a photo and viewing the digital image on the screen are now simultaneous. Digital photography, which began in the 1990s, developed at the same time as Internet access became more widespread. The practices of photography followed these evolutions: the portrait has become omnipresent, what was unique is now multiplied, and the private sphere now extends to the public community.
In the 21st century, mobile phones have become smart devices able to perform multiple tasks, including taking photographs. Thus, the image quality, dual cameras, integrated image editing software, and an Internet connection have been the key factors in the expansion of the selfie. The interest of digital photography is thus not so much its content, as its ability to be shared on screens with others (family, friends, acquaintances, etc.). As a result, the photographic image, in particular the portrait/self-portrait, shared on these social-digital networks has become a tool for communication, for promoting oneself.
A Selfie of Narcissus?
The screen is a luminous surface where your own face is projected just like on the surface of the water. The reflection of oneself seems to get lost in the abundance of images, like Narcissus losing himself in the abyss of his own reflection. Yet is this posting of the selfie on networks a sort of inverse of pathological narcissism?
This is one theory, supported primarily by Agathe Lichtensztejn. According to her, selfie is not the fixation on an overvalued, ideal self, but rather a multiplication of portraits, a continual searching for one's own face. Moreover, the sharing of images of oneself conveys a need for communication and exchange with others, "it is part of an intense desire for sociability, a desire to communicate, and to make connections with others [translated here]," unlike narcissism which is a withdrawal into oneself. Pauline Escande-Gauquié also points out that narcissism is intrinsically linked to the construction of identity, and that all generations of people go through this stage-only the means of expression used to do so have changed.
Social networks condition how photos are shared. They are generally in a square format and their use for communities encourages using the same codes for representation. Examples that come to mind are the variations on the selfie with the famous duckface (with one's mouth imitating a duck's beak) and in summer, the very fashionable 'legfie' (photography of bare legs). P. Escande-Gauquié explains: "Sharing platforms force a publication to be organized and formatted, such as with the gallery (Instagram) and the timeline or wall (Facebook). In this perspective, amateur photographers post the images of their lives according to an aesthetic ideal that is of course an ideal of imaginary of the gallery, but it is standardized. The paradox is thus 'my life is a unique masterpiece' but infinitely 'reproducible.'[translated here]"
The creation of user profiles on social networks shows several faces of the same person that change depending on the specificities of that community. As a result, the self multiplies (or divides) to appear in a friendly, informational, or professional context. Profile photography thus adapts, while the selfie can express more freely on some social networks.
The Selfie: Proof of Existence
Active users on social networks are referred to as "everyday tourists" by André Gunthert, who connects the practices of photography with its tool. Freed from technical requirements, photography at your fingertips makes it possible to capture an image at any time and in any place. This vision of everyday life captured visually and immediately shared with others can be interpreted in several ways.
On the one hand, an image attests to a lived moment or experience (significant and/or banal); this has always been the case with photography. Publishing the photograph online adds an additional element of attesting to the present moment—no longer simply viewed but now experienced physically. Now during a trip, the historical monument is no longer enough; the outstretched arm or the selfie pole add a face to the scene. By showing their presence, users attest to their existence: being visible on the web is proof of life!
On the other hand, publishing an image intended for others to see means also waiting for a visible reaction by receiving "likes" and comments, actions perceived as rewards that stroke the ego. The need for recognition or popularity validated by an Internet community may reveal a lack of self-esteem. People who lack self-confidence tend to take more selfies and pay more attention to the reactions they receive (which is more or less pronounced depending on the user's age).
Finally, in its multiplicity, the selfie is a visible part of the individual (and not the whole). Elsa Godart questions this metamorphosis of the self and the subject that "represents" itself on the screen. People then become characters in their own daily lives that they stage, reframe, filter, and caption. Thus, each user offers a facet of him or herself that is distorted through the choice of images, the context, and interactions. People are thus writing the fiction of their own lives.
Ultimately, studying the selfie as a category of portraiture and a means of expression raises several questions. These multidisciplinary issues make it a relevant research subject; and not at all futile as it may seem at first glance. In a society in which the image is omnipresent, the mise en abyme of the "I" through images reveals that identity has become both a representation of oneself and an artifice.
Godart E., 2016, Je selfie donc je suis. Les métamorphoses du moi à l'ère du virtuel, Paris : Albin Michel.
Gunthert A., 2015, L'image partagée. La photographie numérique, Paris : Textuel.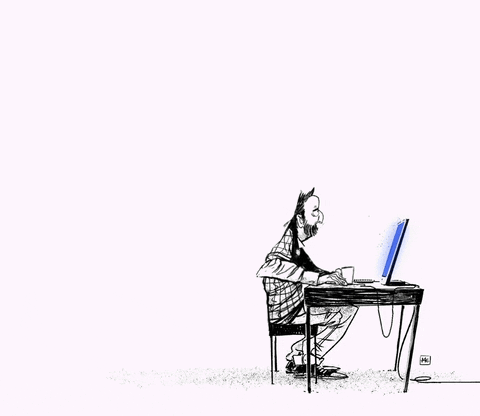 Crédits image à la Une : CC PublicDomainePictures Petr Kratochvil et crédits image d'entrée : CC Pixabay Markcity
---